FAQ
(Back to overview)
Product:
BDM
Topic:
Driver
Question:
BDM100 driver was not installed correctly under unter Win8-64
Answer:
Under Win8-64 only certified driver can be installed. The driver for the BDM100 consists of two parts:
1.) The driver package from Jungo. This is certified.
2.) The identification file (INF) for the BDM100. It is not certified.
Win8-64 doesn't allow the installation, but there is no error message.
Only if you select the BDM100 in the device manager and try to install the driver manually, you will get the hint, that only certified drivers can be installed.
Therefor the certification check must be disabled for the installation time.
It can be done like this:
Move the mouse to the lower-right corner - Settings
Press and hold the SHIFT key
Click on Power - Restart
Release the SHIFT key
Troubleshoot - Advanced Options - Startup Settings
Click Restart
On the Startup Settings press F7
Boot
Then install the application with the option Force driver installation.
.
At the red warning message press "Install the driver software anyway"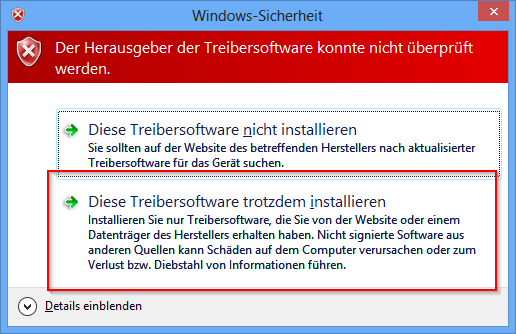 After the next restart the driver check will be active again. Anyway the already installed driver will work fine.