FAQ
(Back to overview)
Prodotto:
BDM100
Area:
Driver
Domanda:
BDM100 driver cannot be installed correctly under Vista, Win7 or Win6
Risposta:
The first BDM100 modules had an error in the firmware. This error appeared at first under Vista - on WinXP they work fine.
You can check that in the
System setting
-
Manager attrezzature
. Il
BDM100
clicca e con il tasto destroy del mouse su
Caratteristiche
. Qui sulla scheda registro
Dettagli
la
Hardware-IDs
controllare: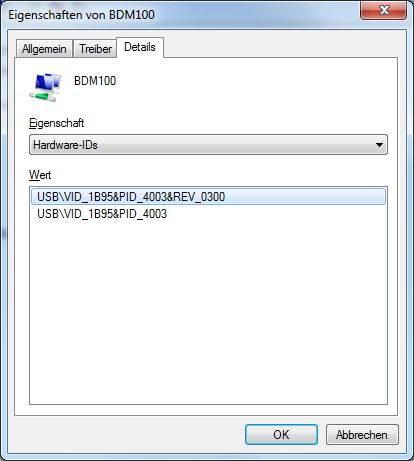 If you can see PID_4003, all is correct.
Otherwise a firmware update must be done. It can be from with WinOLS installed on a WinXP computer. It can be found at
Configuration - Hardware - BDM100 - Firmware update.